How Omnichannel Contact Center Software can enhance the customer experience in FMCG industry
Traditionally, the FMCG or Fast-Moving Consumer Goods industry has been considered a blue-eyed boy. The FMCG business unit in a diversified business was always accused of being given special favors normally. However, the last few months have been everything but "normal". For consumer packaged goods and retailers, the Covid 19 has been an unprecedented time of change. Overnight customers adopted digital channels to buy their supplies. Besides, many people resorted to overstocking essentials due to panic that wiped out store shelves.
Many retailers end up limiting the number of purchases. Companies that adopted the new way of serving customers were able to survive well in this tough time. One such advanced tool is omnichannel contact center software. In this blog, we will see how contact center management software helps FMCG companies in the smooth management of their operations. 
As the FMCG industry looks at the new normal there is a huge opportunity to reinvent itself and keep a pulse on customer expectations. A survey by McKinsey conducted during the pandemic period throws up interesting insights on this. Customer experience and customer service are among the most important factors driving decision-making.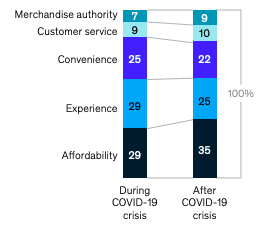 Most important factor when choosing where to shop for groceries (Source: McKinsey)
The insights put the spotlight on the value of establishing an omnichannel connection with today's digital customers. Remember, it is not always a high-value product that can cause reputation damage giving a blow to brand value. Today's consumers are more sensitive to customer service. They have several avenues to voice opinions and reward businesses that get them right. As per a report, 9 out of 10 consumers want an omnichannel experience with smooth service between communication channels.
Contact center software for FMCG: The whys
Often people say, why does an FMCG business need a contact center? After all, it is the job of e-commerce players or online retailers. It is important to understand why you need an omnichannel contact center. 
Establish connections with customers:

If customers cannot see you, feel you, or talk to you, chances are you will be forgotten. This is the reason why many well-established FMCG companies have evolved to move up from helpline numbers to regular interactions. Now they are using social media, in-store contests, and educational videos on products to connect with their customers.  For instance, companies such as Abbott Nutrition or Mead Johnson have dedicated websites for leading products. Customers can buy the products directly from the website and get rewarded for their purchases. Moreover, their customer service channels give direct access to customers to reach the company whenever they like to interact. 

Consumer Research: Many consumer durable companies need to carry out extensive research to come up with new products. Some even carry out research or make tweaks to their existing products. In such cases, data generated from the omnichannel or multi-channel contact center software becomes very crucial. It helps to understand user behavior and expectations in a better manner. Most contact center software for the FMCG industry has reporting and analytics tools to provide a consolidated view of the dashboard. By using digital technology and analytics you can also revolutionize your operations and boost your growth in a volatile industry. 
Manage partners and operations:

Large FMCG companies have many layers in their supply chain and operations. This makes the management of players in each product line difficult and cumbersome. A modern contact center can help in streamlining activities while guiding on ways to carry out tasks efficiently. Moreover, it can help in generating and strengthening customer loyalty to the brand. Ultimately, companies can have the business stability that they are looking for.
Contact Center software for FMCG: The whats
Technologies have transformed the way we work and the modes of communication. Now people expect a quick resolution of queries. This expectation increases a lot when it comes to the Fast-moving consumer goods (FMCG) industry.  Contact center software assists FMCG industries in managing distribution networks, streamlining delivery, and uncovering retail opportunities. This further helps to make the shopping experience as exciting and pleasing as possible.
Contact center automation software offers a platform where FMCG industries can effectively manage orders and inventory. It assists FMCG businesses in managing various communication channels, including email, phone, Live chat, SMS, instant message, and social media. It is basically of two types: 
On-premise call center software 

Cloud-based call center software
Features of contact center software
Contact center software comes up with several features to assist FMCG industries. Some of these features include: 
IVR, Interactive voice response: IVR categorizes incoming calls based on various parameters and transfers the request to the most appropriate agent. This way, IVR contact center software helps FMCG companies in offering better customer service.
Automatic Call Distribution (ACD): Automatic call distribution feature in contact center software automatically routes calls to the most appropriate agent. By connecting the call to the right person, it reduces the waiting time of customers. As a result, it assists in handling customer calls systematically.
Skill-based routing:

As mentioned in the above point, contact center software routes the call to the most appropriate agent. It specifically connects the call to an agent who has a particular set of skills to resolve the query. Thus, helps in resolving the query of the customer in one go.

Call tracking and monitoring:

It tracks all the business calls 24*7 and identifies whether all the calls are answered. It also tracks the performance of agents. In all, the software helps in tracking and monitoring the overall performance of the contact center.

Analytical report: Analytical report is an essential feature of contact center software and is beneficial for FMCG industries. It displays call volume, missed and received calls, new and returning calls, traffic generated from various regions, and several other insights.
Benefits of contact center software
There are many benefits of using omnichannel contact center software for the FMCG industry. Some of these include:
Effective management of supply chain channels: Contact center software assists FMCG industries in the effective management of supply chain channels. It also helps in tracking the performance reports of the sales team.
Lower the operational costs:

Contact center software reduces the operational cost of the FMCG industries. The best thing about it is that it is accessible from any remote location.

Productivity booster: Multi-channel contact center software has several automated features such as an auto dialer, monitoring tools, and call route matrices. It assists in tracking the package from the warehouse to the customer and helps in better customer service. Thus, enhancing productivity.
Conclusion:
Contact center software brings about efficiency in the operation of and helps map customer journeys. An omnichannel contact center software also works seamlessly with CRM (Customer Relationship Management) and SMS software integrations.  If you are looking for the best software for your contact center, then HoduSoft can be your one-stop destination. 
With years of experience in producing quality products, HoduSoft provides the best omnichannel contact center software for FMCGs—HoduCC. If you want software that gives you better RoI, the latest features, and 24/7 support, your search ends here. We have over 200 customers in 34 countries who have successfully transformed their customer services. 
To know more about HoduCC omnichannel contact center software, call on +1-707-708-4638 / +91-886-672-8362  or write to [email protected]
Let HoduSoft help you grow your business!