An Extensive
VoIP Glossary
Presenting a comprehensive VoIP Glossary, your go-to resource for understanding the world of Voice over Internet Protocol (VoIP). The intent behind creating this glossary is to provide clear and concise details of various key terms and concepts, commonly used in the field of VoIP. Acquaint yourself with essential terminologies that you might come across throughout your exploration of modern communications through our extensive VoIP glossary.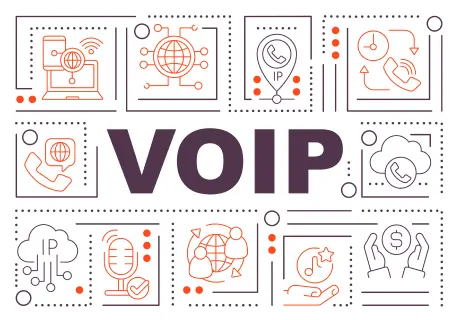 Abandon Call:

Abandon calls can be both inbound and outbound. Calls that are disconnected by the caller before connecting with the agent are inbound abandon calls. Calls that are disconnected due to the unavailability of the agent at that time are known as outbound abandon calls.
Advanced Call Center Technologies:

The incorporation of advanced features and technologies into the call center system to deliver enhanced communication and support services to customers. 
Agent Coaching:

A feature or ongoing practice designed to allow team leads or supervisors to provide real-time assistance or guidance to call center agents while interacting with customers. 
Agent Reports:

Also known as data and analytics, agent reports provide detailed insights into the performance of each agent or representative.  
Agent Self-Evaluations:

A quality management activity for call/contact center agents in which they evaluate their own interactions using the same evaluation form used by other evaluators for balanced comparison. 
Acoustic Echo:

A type of echo that generally occurs during a phone call. In this type of echo, the microphone picks up audio signals from the speaker and sends them back to the other participant along with their voice.
ATA (Analog Telephone Adapter):

A device that converts voice signals from traditional analog telephones, fax machines, and other analog devices into digital data that can be transmitted through a VoIP network.
Attendant (Auto Attendant):

Also known as an automated attendant or virtual receptionist, an auto attendant is an automated answering system that directs callers to the right person or department without the interference of an agent. 
Attenuation:

Sometimes called as loss, attenuation is the drop in the intensity or strength of a signal (digital or analog) as it travels over a communication channel or network generally over long distances.
Want a Perfect Solution for Your Business Communication Needs?
Connect with HoduSoft Experts Now!
Schedule a Demo
Business Process Outsourcing (BPO):

A type of service in which the organizations outsource some of their business processes like customer support, call handling and management, and other communication-related tasks to a third-party service provider. 
BPO Services:

The practice of outsourcing some of the specific functions or business processes to third-party service providers. 
BPO Technology:

BPO technology generally refers to the set of communication tools, software, and hardware used by BPO service providers. 
Backbone:

Backbone in VoIP usually refers to the primary network infrastructure that transmits voice, data, and other forms of communication between various devices like phones, computers, and others connected to the VoIP network.
Bandwidth:

The amount of time it takes to send or receive data via a network. VoIP bandwidth requirements generally use three common measurements- Megabits per second (Mbps), Gigabits per second (Gbps), and Terabits per second (Tbps). 
Baud:

The rate that shows how many signal elements or changes to the signal occur per second when it goes through a transmission medium.
BOYD (Bring Your Own Device):

A practice where the users can bring their own equipment or devices and use them to access the organization's VoIP services.
Call Forwarding:

A feature that allows users to redirect incoming calls to another phone number.
Call Center Agent Software:

A specialized desktop or mobile application designed for call center agents to help them manage and handle incoming and outgoing calls efficiently.
Call Center Agent Utilization:

A metric to determine how effectively and efficiently call center agents are utilizing their time and resources to connect with customers over the VoIP system.
Call Center Coaching:

A call center practice used by the supervisors or heads to provide the right feedback and guidance to the call center agents as part of quality management and employee training. 
Call Center CRM:

The integration of a Customer Relationship Management (CRM) system with a call center's VoIP infrastructure to allow agents to access relevant customer information directly from the CRM interface when they make or receive calls. 
Call Center Management:

A continuing process of developing, employing, foreseeing, monitoring, and optimizing strategies to enhance the overall performance of a call center. 
Call Center Reporting:

A process that involves collecting and analyzing the data to measure the overall performance and efficiency of call centers. 
Call Recording:

Recording of calls (voice, video, or both) for various purposes like training, quality assurance, dispute resolution, compliance, and more. 
Contact Center:

A centralized platform used by the agents to handle omnichannel customer support including voice calls, chat, email, social media, etc. 
Contact Center Agent:

An agent offering omnichannel support and quality of service to a company's customer base. 
CDR (Call Record Detail):

Data that comprises information related to a particular call or communication session carried out over a VoIP network. 
Cloud Communications:

Offering communication services (voice and data) via cloud-based technology and infrastructure. 
Codec:

  Codec or Coder-Decoder is an algorithm used to compress and decompress audio or video data for transmission over the internet. 
CPE (Customer Premises Equipment):

Devices that are placed on the customer's premises and are used to connect to the VoIP service provider's network. 
CSU/DSU (Channel Service Unit/Data Service Unit):

A set of devices used to link digital communication equipment like routers or switches to a digital communication line, generally a T1 or T3 line.
CSR (Customer Service Record):

A detailed record that comprises all the details associated with a particular phone number like customer interactions, account details, and more. 
Data:

The information other than voice that is transmitted together with voice packets over the Internet. 
Data Transfer Rate:

The amount of digital data transferred from one place to another in a particular time. 
DHCP (Dynamic Host Control Protocol):

It is a network protocol that allows administrators to supervise and assign IP addresses to each device on a network. 
DID (Direct Inward Dialing):

Virtual numbers that let users route calls to their existing telephone lines. 
DSL (Digital Subscriber Line):

A type of internet connection that provides high-speed internet access over traditional telephone lines. It carries both data and voice simultaneously over the same telephone line. 
DTMF (Dual Tone Multi-Frequency):

The tones or sounds produced by a telephone when the numbers are pressed. 
Echo (Acoustic Echo):

An unwanted voice band energy where a person hears their voice back with a slight interval after speaking into a microphone during a voice call.
EWT (Expected Wait Time):

The estimated amount of time in which the callers need to wait in a queue before their call is answered by the agent. 
Echo Cancellation:

A practice used in VoIP and telecommunication systems to remove the echo during voice communication. It helps to enhance the quality of voice communication. 
Encryption:

Converting audio and other data into a coded form to ensure confidentiality and privacy of the information being exchanged over the Internet.
Emergency Calling:

A facility to help users make emergency calls to a designated emergency service number. 
Extension:

A unique identifier of a particular user, device, or feature on a VoIP network.
Firewall:

A network security device or software that tracks and scans the flow of VoIP traffic to protect access to complex data.
Fixed VoIP:

A telephone number that is associated with a particular geographic location or physical address. 
Fax over IP (FoIP):

The practice of transferring fax documents over an IP network (local or wide area).
Fixed IP Address:

A static or fixed Internet Protocol (IP) address assigned to a device by an Internet service provider (ISP). 
FreeSWITCH:

An open-source communication platform designed to facilitate real-time communication protocols using audio, video, text, etc.
Gateway:

A VoIP gateway is a device that transforms the digital signal into packets of data and encrypts it for transmission. 
Group Paging (GP):

A broadcast functionality that lets users broadcast a message to a group of devices or endpoints simultaneously.
G.711:

An audio compression algorithm or codec that is used to digitally encrypt analog voice signals for transmission over IP networks.
G.729:

A voice audio data compression algorithm that is used to compress voice audio in chunks of 10 milliseconds. 
Hosted VoIP:

A telephony service that offers communications solutions using hardware that's managed by a third-party provider. 
Hardphone:

A physical device resembling a traditional telephone, that dials over an IP network.
IP Address (Internet Protocol Address):

A numerical label or identification allocated to each device that uses the Internet Protocol for communication.
IVR (Interactive Voice Response):

An automated business phone system that guides callers through pre-recorded voice prompts and touch-tone keypad inputs, allowing them to navigate through menus and perform various actions without the need for a live agent.
IP PBX (Internet Protocol Private Branch Exchange):

A telephony system that manages and routes voice and multimedia communication over the Internet using Internet Protocol (IP) networks.
IP telephony:

A practice of transmitting voice and other multimedia communications over Internet Protocol (IP) networks.
Jitter:

Jitter refers to a delay in receiving voice data packets. 
Jabber:

An issue that occurs in VoIP systems or any other communication systems where a device breakdowns or behaves unpredictably.  
KPI (Key Performance Indicator):

Metrics to measure the performance and effectiveness of a VoIP system. 
Key System:

Also known as Key Service Unit (KSU), the key system is a phone system with several keys/buttons and lights that indicate which line(s) are in use at any particular time. 
LAN (Local Area Network):

A group of devices linked together in one physical location like a building, home, or office. 
Latency:

An important factor in determining the quality of a VoIP call, latency is the delay or lag that occurs between the time when a voice packet is transmitted and the moment it reaches the receiver.
Local Area Network:

A network infrastructure that covers a comparatively small geographic region like a building, office, or home.
Logs:

Logs refer to records that document various events, activities, and transactions within a VoIP system. 
Multi-Line Phone:

A device that can handle multiple phone lines or calls simultaneously.
Managed Services:

Management and maintenance of a company's VoIP infrastructure and services by a third-party provider. 
Mobile Softphone:

A software application that allows users to make phone calls over the internet using their mobile devices, such as smartphones or tablets.
NAT (Network Address Translation):

A service or technology that allows multiple devices within a local network to share a single public IP address for communication with devices on the wider internet. 
Network Packet:

A unit of data that is transmitted from a source to a destination address within the internet or packet-switched network. 
Number Porting:

The process of changing the service provider while retaining the same phone number.
Network Switch:

A switch or device used to connect multiple network devices and manage the exchange of data packets.
Network Interface Device:

A device used to separate a service provider's network and a customer's on-premise wiring.
Network Bandwidth:

The amount of data that can be transmitted over a network connection in a particular period of time.
Omnichannel:

The integration and synchronization of different communication channels to deliver a seamless and consistent experience for users and customers.
On-Premises VoIP:

A VoIP communication system that can be deployed and maintained within an organization's premises.
Outbound Call Center:

A type of customer service or telemarketing operation where agents make outgoing calls to third parties like customers, clients, or prospects.
PBX (Private Branch Exchange):

a business telephone system that helps companies in managing internal and external calls. 
POTS (Plain Old Telephone Service):

the traditional analog telephone system that is used to transmit voice signals over copper wires. 
QoS (Quality of Service):

The measurement and management of different factors that impact the overall quality and consistency of voice communication over an IP network.
QoE (Quality of Experience):

The overall satisfaction and usability of a VoIP communication session from the user's perspective. 
Queue:

Designed for call centers or contact centers, the queue is a line of callers who are waiting for an agent to receive the call.
Queue Management:

The process used by businesses to organize and handle incoming calls systematically.
RTP (Real-Time Transport Protocol):

A network protocol used to transfer real-time audio and video over the internet
RTA (Real Time Adherence):

A metric generally used in call centers to ensure that the agents are following their assigned schedules and are actively engaged in handling calls or other tasks in real-time. 
Real-Time Communication:

The transmission of voice, video, and other forms of data over the internet connection with negligible latency. 
Remote Support:

A service that allows technicians to diagnose, troubleshoot, and resolve issues with a VoIP system or device from a remote location. 
Softphone:

A type of software-based phone that allows users to make voice and video calls over the internet without needing a traditional hardware-based telephone. 
SaaS (Software as a Service):

A software distribution model in which the software application is hosted by the service provider to the customer over the internet for use as a service on demand. 
SIP Trunking:

A technology that enables the connection of a business's PBX phone system to the PSTN using the SIP. Basically, it refers to virtual phone lines that allow users to make calls over the internet to a phone number. 
Switch:

A part of network hardware used to connect multiple devices within the same physical network.
Softswitch:

A software-based system used to route, maintain, and terminate voice, video, and other data within a VoIP network. 
vT1 (T-carrier Level 1):

A type of digital telecommunications line that was traditionally used for transferring voice and data signals over long distances.
vTCP (Transmission Control Protocol):

A core protocol of the Internet Protocol Suite that is used for establishing reliable and connection-oriented communication between devices over a network. 
vTrunk Line:

Also known as trunkings, a trunk line is a communication path used to transmit multiple simultaneous voice calls between two points in a VoIP network.
vTrunk:

An internet phone system that is used to send and receive calls via an internet connection instead of using traditional phone networks. 
UDP (User Datagram Protocol):

A communications protocol used for transmitting data over IP networks, especially for real-time applications like VoIP, online gaming, video streaming, and more. 
UCaaS (Unified Communications as a Service):

A cloud-delivered unified communications model that provides different communication and collaboration services as a cloud-based service.
VoIP (Voice over Internet Protocol):

A technology and practice used to make and receive phone calls over Internet Protocol (IP) networks.
Voicemail Transcription:

A process used to convert audio voicemail messages into text format.
Virtual PBX:

A cloud-based telephony system that allows users to make phone calls through the Internet.
Voicemail:

A feature that lets callers leave recorded audio messages for recipients in case they are unavailable to answer a call. 
WAN (Wide Area Network):

A type of network that connects multiple local area networks (LANs) together. 
WebRTC (Web Real-Time Communication):

An open-source technology that supports real-time communication (voice, video, and data sharing) within web browsers and mobile applications.
White Label VoIP:

A type of VoIP service where a company provides fully developed platforms but allows other companies or individuals to rebrand and resell these services as their own. 
Web Conferencing:

A technology that establishes real-time audio and visual communication between participants over the internet.
Web-based Softphone:

A software application that facilitates VoIP communication over a web browser.
XML-RPC:

XML-RPC refers to the utilization of the XML-RPC protocol within the context of voice communication over the internet. It is a remote procedure call protocol that employs XML for call encoding and HTTP for transportation.
Yate:

Also known as, "Yet Another Telephony Engine," Yate is an open-source VoIP telephony engine mainly focused on Voice over IP (VoIP) applications.
Zero-Touch Provisioning:

Zero-Touch Provisioning or ZTP is a method of automatically configuring and deploying VoIP devices, such as IP phones, without any manual interference.
ZRTP:

ZRTP or Zimmermann Real-Time Transport Protocol is a secure VoIP encryption protocol that ensures real-time communication privacy.