What is Hosted IP PBX: A Complete Guide
A hosted PBX phone system is an advanced phone service offered over the internet. It allows businesses to place and receive calls over the Internet. The thing that differentiates Hosted IP PBX from on-premises IP PBX is that a Hosted PBX system is managed and maintained on your VoIP provider's server. On the other hand, with on-premises PBX, you become responsible for the maintenance, management, and other associated costs. 
Many businesses these days prefer Hosted IP PBX due to several reasons. Firstly, as mentioned before, it frees you from the task of maintaining a system by yourself. Secondly, it comes with various standard business phone system features such as:
Auto-attendant

Voicemail

Call transfer, etc.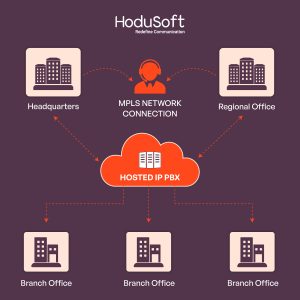 Additionally, it helps to route incoming calls to the most appropriate agent or department inside the company. Since everything is managed over the internet, businesses can save huge on hardware, labor, and other related costs. Another major reason why businesses prefer hosted system is that it allows employees to work remotely using their business phone number from anywhere. 
So, this is just a brief about Hosted IP PBX, there is a lot to discover about this system. Let's uncover more details about IP PBX hosting. 
How does Hosted IP PBX Work?
Hosted IP PBX is an advanced, cost-effective business phone system with innovative features. It replaces the traditional PBX system and wired lines with a cloud-based business phone system. By opting for a hosted PBX system, businesses need not to hire a special technical team to manage the platform. In order to determine how hosted IP PBX works, it is important to understand the working process of hosted PBX in general.
Let's know how Hosted PBX works. 
Well, a hosted PBX or Hosted PBX phone system uses different ways to help users make and receive calls like:
Over the Public Switched Telephone Network, also known as

PSTN

 

Over the Internet, also termed as hosted IP PBX via Internet Telephony or Voice Over IP (VoIP) 

A combination of the two.
Now it is clear that hosted IP PBX uses Internet Telephony or Voice Over IP (VoIP) technology to make and receive calls over the internet.
6 Benefits of Hosted IP PBX Phone System
A large number of businesses these days are opting for a hosted IP PBX system. Here's why a hosted PBX is an excellent choice for different sizes of businesses. 
#1. Cost-savings
Unlike traditional PBX that involve a huge initial investment, hosted IP PBX is a virtual solution that doesn't require any costly hardware and installation process. It means, it involves very minimal investment. Besides, everything is hosted and managed over the cloud which means you will be saving on valuable space.
For businesses like call centers that deal with a large volume of long-distance calls, hosted PBX works like a wonder. It allows users to merge their communication infrastructure into a single system, no matter where they are located in the world. They can make calls from one branch to another in a smooth manner as if they are making internal calls. Plus, there is no need to hire an in-house technician to manage and maintain the system. You just have to pay for the services that you require. 
#2. Supports your old/existing phone system
With hosted IP PBX, you need not worry about buying or installing a new phone system. Businesses that want to enjoy the benefits of PBX hosting without disrupting their existing phone system, can do so with the help of a Hosted PBX system. No matter whether they want to open a new office at a new place or a branch office, they can still use the hosted PBX system. This is possible because the system can be easily integrated with any traditional phone system or device in just a few simple steps. 
Since a hosted PBX system can interface with any existing infrastructure, it provides greater flexibility especially when it comes to call routing. Moreover, the hosted IP PBX can be configured easily to allow users to initiate calls using their existing phone system. 
#3. Advanced features
With IP PBX hosting, you get access to various advanced features that may not be available with your legacy phone system or in-house PBX. Your service provider will provide all the advanced features without charging any additional cost. Some of the key features that are accessible with hosted PBX include: 
Inbound and outbound call management

Call forwarding

Call recording

IVR/Auto-attendant management

Billing management

Auto provision, and many more. 
Moreover, the service provider keeps on updating the system by adding new features to it and upgrading the existing ones. 
#4. Easy to use and manage system
For users, a hosted IP PBX is a simple-to-use and manage the system. It doesn't require any special training or skills. You can easily and quickly start using your business phone system. Besides, it gives a superior user-friendly experience for employees.
By simply log-in the system, employees can route their phone number to a new device. As compared to a traditional PBX system, hosted IP PBX is quite easy to maintain, troubleshoot, and configure, thanks to its simple web-based interface. 
By opting for this system, you can empower your agents' work management with multitasking abilities and efficiencies.
#5. Supreme mobility
Another key benefit of a hosted IP PBX system is that it allows your employees to work from anywhere while still keeping the office phone number and extension. The only thing needed to start using the system is a good internet connection to connect through a web browser. It simply means that the employees can work from home or anywhere in the world at any time using the same office number and their choice of device. 
Office calls can be flipped easily from desk phones to softphones, allowing agents to answer the calls even when they are traveling. Hence, no calls are missed whether you are in the office, working remotely, or traveling. This power of mobility helps businesses improve their chances of reaching their target customers easily and effectively.
#6. Scalability
With a hosted IP Private Branch Exchange system, you need not worry about any hindrance to your business' growth. Yes, you can easily scale up or down as and when required. With minimal effort and little to no additional costs, you can add or remove lines and extensions with the help of your service provider.
Therefore, it would be correct to say that hosted IP PBX is an excellent solution for businesses that require flexibility to grow and flourish. 
Since there is no in-house PBX equipment, the users are not bound to work from one particular location. With a hosted system, they can connect easily with any branch of offices throughout the world and benefit from the scalability factor. Wherever the users are, the system remains accessible to them. 
So, these are some of the key benefits offered by hosted IP PBX. You can also enjoy high-quality voice calls, better redundancy and disaster recovery, real-time monitoring and report analysis, improved security, etc. 
How is Hosted IP PBX different from On-Premise IP PBX?
Here are some of the key differences between hosted IP PBX and on-premises IP PBX system.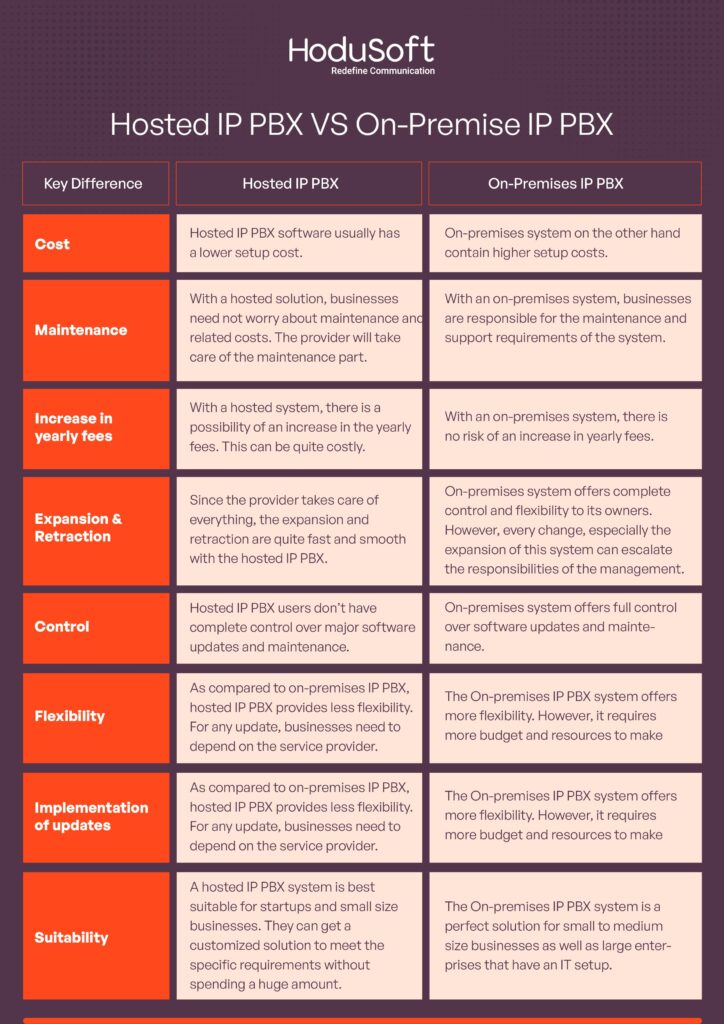 Hosted IP PBX VS On-Premise IP PBX
What to Choose On-premises or Hosted IP PBX?
Both hosted IP PBX and on-premises systems have their advantages and disadvantages. Businesses can have better control with an on-premises IP PBX system as compared to a hosted system. However, the on-premises system requires higher management and support capabilities for maintaining the system. So, how to choose the best system for your business? Well, it completely depends on the following factors:
The size of your business

Key business communication requirements

Infrastructural facilities available at their premises
Based on these factors, you will be able to make an informed decision for the growth and success of your business. 
How to Choose the Right Hosted IP PBX Provider?
It is vital to choose a system that works best for your business's specific needs. Whether you need on-premises IP PBX software or a hosted system, make sure to select the right service provider. Firstly, evaluate your present and future business requirements. Based on your budget and business needs, opt for the most suitable provider that can fully meet your business needs. Also consider things like:
Kind of support they provide

Is there a need for any particular on-site equipment?

What security measures do they implement?

Do they charge any contractual or cancellation fees?

Do they provide customized products?

Do they offer any trial period or demo for better understanding of the system?
Opting the right IP PBX hosting provider is an important decision that helps in smooth functioning of a business. HoduSoft is one such provider that offers one of the best IP PBX systems, known as HoduPBX.
Businesses can get the software installed on their premises or over the cloud as per their unique requirements. Moreover, businesses like ITSPs, ISPs, MSPs, and others with widespread operations that are looking forward to providing hosted services to their customers can also benefit from using HoduPBX software. They can get the software installed on their server and from there they can provide hosted services to their customers from their end. 
Conclusion:
So, now you must be having a clear understanding of what is hosted IP PBX and how it benefits your business. By choosing the right service provider, you can take your business to the right path and achieve your desired goals. 
If you have any questions about the HoduPBX IP PBX system or would like to know how HoduSoft can help your business, connect with our experts today!
How to Start Hosted PBX Business. Let's Get Started Now!