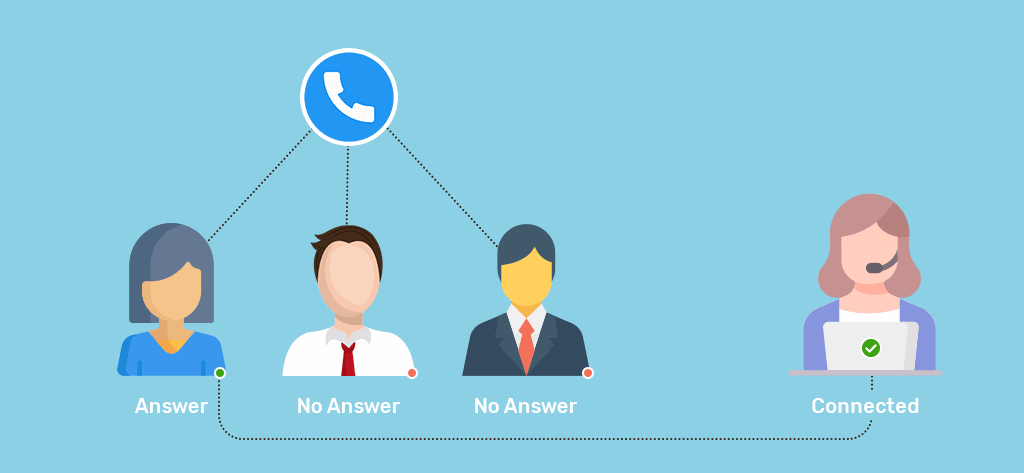 Predictive Dialer Software is an ideal tool for businesses with huge call volumes. The Predictive Dialer has the functionality to anticipate when to place the next call. Based on the number of agents and the stipulated average talk time it adjusts its calling pattern.
For e.g. If the agent's availability is on the higher side and also the call is short, the predictive dialer dials the number more frequently. Similarly, if agents are not available or the average talk time is more, it adjusts accordingly and ensures to keep the customer on less no hold.
Optimizes Outbound Call Process
Incremental Profits And Productivity
Predictive Dialer Software is a system in which Dialer software automatically dials the customer calls & connect their calls to live agents when they answered. With predictive dialing Software, we do not need to spend hours to make your customers' calls as our predictive dialer will automatically dial as many calls as you want. Our Predictive dialer Software is a VoIP system where not only you can save time but you can also save money as well. So work efficiently and effectively and save your money and time with our Predictive dialer Software!
With a wide range of calling features that are unique & robust, and very easy to use, our predictive dialer software is designed to enhance all facets of your outbound phone-based campaigns. The predictive dialer software gives complete liberty to integrate additional features for future and existing requirements.
The Predictive Dialer Feature in HoduCC Contact Center Software is a fully burstable solution that delivers on-demand capacity needs both in terms of real-time analysis of concurrent call processing and the number of agents. We are constantly developing our predictive dialer software and adding new functionality based on close cooperation with our users.
HoduCC predictive dialer allows agents to increase efficiency to connect with live customers quickly. With this system, you do not need to look up the list of phone numbers and dial it manually. The predictive dialer plans the best times to call, foretells when a current call will be completed, and moves to dial the next number. Thus, it increases the productivity of your agents so that they can deliver the best call experience to the clients on call.
When you deliver a fast and effective call service to customers, you can increase customer satisfaction easily. As you can connect the right agent with the right customer via our predictive dialer, it will help you to accelerate sales. The features like call logging, call recording, callback rules, and other automated processes save agents time and allow them to converge on pursuing the most potent leads and closing sales. This facility gradually improves agents performance and motivate them to deliver better customer services.
Similarly, during peak hours, your agents can manage the heavy call flow efficiently without any complexities. With the optimized features, only live calls are transferred to agents. In this fast-paced competition, connecting quickly and effectively with customers is crucial. With HoduCC's predictive dialer, you can engage with your potential customers by offering excellent customer service.
Deploying an ordinary predictive dialer is not sufficient in today's cutting-edge competition. Henceforth, HoduCC offers a predictive dialer that is flexible and works abruptly, and thoroughly integrated with core contact center applications such as higher agent retention, Optimizes Outbound call process, high contact rate, and many more.
When it comes to deploying predictive dialer services for your call center, we first consider your core requirements. If there is a need for customization, we execute the best strategies to deliver you the most efficient predictive dialer that helps to improve customer services. Our predictive dialer software is simple to install and use. You can perform the intended actions within hours of the deployment.
Besides, you will be backed by our tech support team to troubleshoot any issues promptly. Connect with us and get the best predictive dialer system from HoduCC. Request a free demo for more details.
HoduCC's easy-to-use predictive dialer software includes predictive dialing, preview dialing, progressive dialer and manual dialing modes. It efficiently increases the agent productivity and improves campaign bottom-line by automatically dialing, skipping busy, no-answer and disconnected lines, optionally leaving a voice message on answering machines and–most importantly–never involving you or your agent on a call until a live person answers.
Flexible & Scalable

Inbuilt CRM

Attractive Interface & Design

Easy to use

Real-time Monitoring and Reports

Campaign Management

Call Features

Reduced Idle Time