Multi-Line Phone System-A Detailed Insight
If you are dealing with a large volume of incoming and outgoing calls, you may require a multiline phone system. Businesses that are growing fast need to upgrade their business phone system to ensure smooth communication, both internally and externally. A multiline phone system is an excellent way to maximize communication, improve productivity and efficiency. 
In this blog, you will get a detailed insight into the multiline phone system and how you can find the best system that perfectly suits your business and its requirements. The topics that we are going to cover include: 
What is a Multiline Phone System?
As compared to traditional phones that are designed to transmit audio data between two parties at once, multiline phone systems for small business or large enterprise, allow multiple parties to be on the phone at the same time. This means that the multiline system is compatible with two or more phone line system configurations, irrespective of whether the lines are connected internally or externally.
External lines allow businesses to communicate with people outside the business like customers or clients. On the other hand, internal lines are used to communicate within the organization with employees or colleagues.
How to set up a Multiline Phone System?
There are basically two ways that businesses can use to set up their multi-line telephone system.
Today, businesses are using different types of multi-line phone systems that comprise different functionalities and benefits. We will discuss types of multi-line phone systems later in this blog. First, let's know more about on-premises and cloud-based multi-line phone systems. 
On-premises multi-line phone system:

The on-premises multi-line phone system is a traditional phone system used by many established businesses. This type of system requires telecom equipment. For instance, an on-premises Private Branch Exchange (PBX) system requires various telecom equipment and technical expertise to manage. 

Cloud-based multi-line phone system:

A cloud-based multi-line phone system is a modern phone system that presents in the cloud to provide unlimited phone lines. It uses the internet to make, receive, and manage calls. Instead of using physical phone lines, the system allows businesses to manage calls via computer software, a web browser, or a phone app.
On-premises vs cloud-based multi-line phone system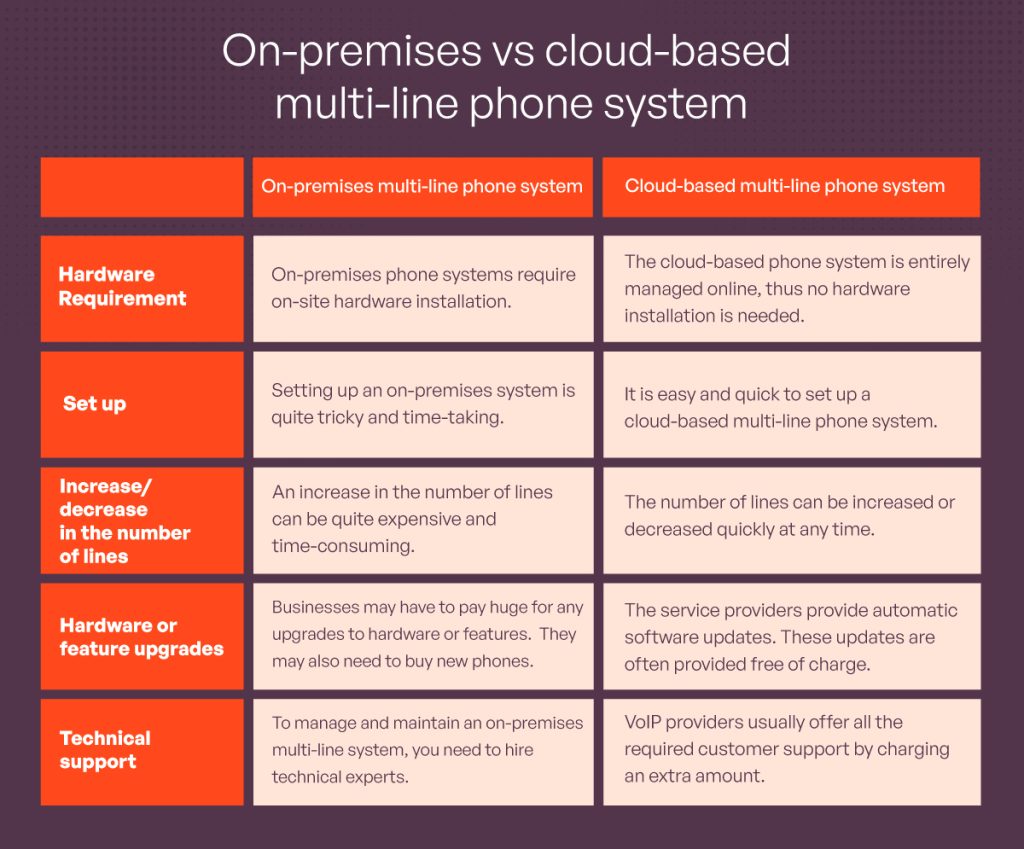 Read Also: Cloud PBX V/S On-premises PBX System for Better CX
How a Multiline Phone System work?
A multiline phone system works quite similarly to a traditional one-line phone system. 
A traditional phone system works by transmitting packets of audio data through telephone wires to the recipient. Similarly, a multiline phone system also transmits packets of audio data to the recipient via telephone wires. The only difference is that multiline phone systems allow two or more lines to be transmitted.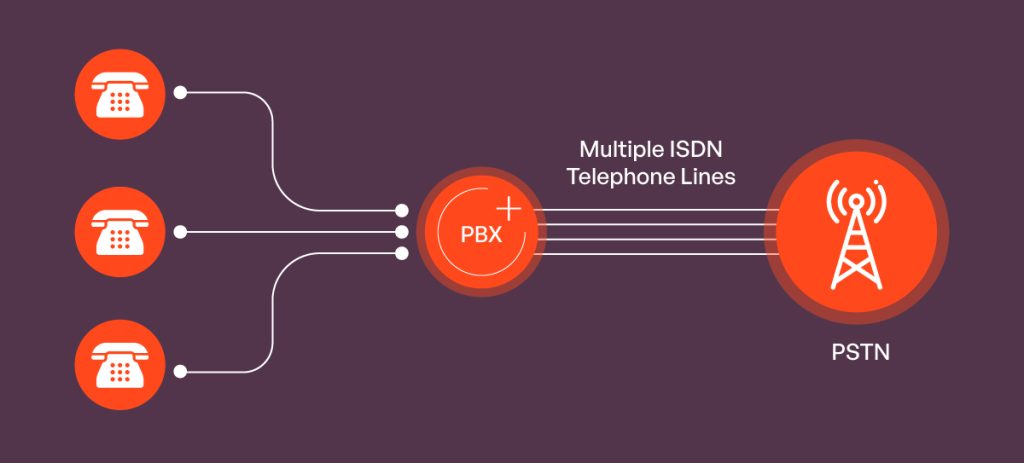 With the help of a cordless extension, users can connect another phone (or phones) as per their specific needs. Users can merge multiple phone lines into a single device to manage and screen multiple calls from their desk.
Different types of Multiline Phones
Based on the specific needs, businesses can choose any type of multiline telephone system. The most common types include-
2-line 

4-line

6 and more lines
2-Line: The most common type of multi-line phone system is the 2-line system. It is generally used by small businesses, solo entrepreneurs, or home offices that have a predictable call volume. Multiline phone systems for small business are connected with 2 lines that can be used simultaneously, allowing users to take two calls at the same time.
4-Line: Small businesses that require more than two lines can find a 4-line phone system a perfect option. In other words, a 4-line phone system can be a good choice for businesses with a moderate amount of call volume.  
6 and More Lines: Businesses with a high volume of incoming calls will require a multiline phone system with 6 or more lines. These systems provide better performance and even come with more customization options as compared to traditional phone systems. 
Multiline Phone System Features
A multiline phone system comes with various advanced features some of which include-
Auto Attendant
The auto attendant feature is simply an automated menu that routes the callers to the most appropriate agent or department. Since callers are directed to the right person or department quickly, it helps in improving customer experience and satisfaction. 
Caller ID
The caller ID feature allows recipients to view the caller's telephone number on their screen. Customer service agents can use this feature for call screening purposes. They can decide whether to answer the call or not after viewing the incoming call number.
Call Waiting
Call waiting is another advanced feature of a multiline phone system that allows users to answer an incoming call while they are already on a call. Based on the priority, they can either answer the second call by putting the first call on hold or decide to ignore the second call. 
Conference Calling
Businesses that want to stay connected with clients, co-workers, and others can greatly benefit from the conference calling feature. The feature allows three or more people to participate in a call simultaneously. Especially, people in different locations can connect conveniently and contribute their ideas/thoughts to the discussion. 
Call Recording
Call recording is a very important and useful feature for businesses, especially for quality control and training purposes. This helps them in improving customer service. Using this feature, businesses can record telephone conversations in a digital audio file format and use it later for training and other purposes. 
Voicemail
In today's time, businesses cannot afford to miss even a single opportunity. With the voicemail feature, businesses can listen to a caller's message anytime at their convenience. The feature allows callers to leave a recorded message for the receiver who is unable to answer the call that at time. This way, businesses will not miss any important opportunities. 
These are just a few features that users can get with their choice of multi-line phone system for their business. Businesses can choose the features that can meet their specific needs. 
Multiline Phone System Benefits
Whether you are a small business or a large enterprise, a multiline telephone system can be a great addition to your business. There are numerous benefits of opting for a multi-line phone system. Let's explore some of the key benefits:
Cost-Effective Solution:

A multi-line system is a cost-effective solution for all types and sizes of businesses. The cloud-based systems store all the data in the cloud and provide information over the internet, which makes them highly cost-efficient as compared to traditional phone systems. 

Versatile Communications System:

With multiline phone systems, users can choose from several available options starting from the features to the number of lines the system supports. Businesses of all shapes and sizes can choose the lines and features as per their key business needs. 

Easy to Use:

Multiline systems are quite easy to use. They allow users to easily receive and transfer calls within and outside of the organization. Also, they come with an array of advanced features like auto-attendant and DND that assists small businesses in creating a professional image. 

Flexible and Scalable:

Multiline systems ensure better flexibility and scalability. These systems grow as per the business expansion needs. Users can easily add or remove extra lines, adaptors, headsets, or expansion kits as per their requirements. 

Ensure better reliability and security:

Multiline systems are highly reliable and secure systems. They ensure better protection of information by encrypting the data. Besides, in a power outage case, the system works on a battery to ensure uninterrupted interaction between the company and its customers. Even if you are using landlines, multiline phone systems are the most reliable and secure means of communication. 
How to choose the Best Multiline Phone System?
If you are planning to purchase a multiline phone system, it is important to determine why the system would be the best fit for your business needs. There are numerous options available with basic and advanced features. You must ascertain what specific features you need from the system. 
There are several other factors also that can help you find out whether opting for a multiline telephone system is a good idea or not. A multiline phone system is a good fit if:
You need a dedicated phone number for each of your employees.

You have to deal with a huge number of incoming calls. 

Your employees need to make a lot of outgoing calls.

You need to allocate specific numbers to certain 

You want to assign particular numbers to specific departments or employees.
After determining the need for a multiline system, it is important to decide whether you require physical phone lines or an internet-based solution. Nowadays, VoIP has emerged as a popular business telephony system throughout the world. VoIP or Voice over Internet Protocol is an internet-based solution that allows users to make and receive calls over the internet. 
To choose the right system, make sure to consider the size of your business, the number of employees who require a phone number, the number of lines you need, the number of people who require to use the phone at the same time, training requirements, features, and most importantly the overall price of the system. 
Conclusion:
A multiline phone system is definitely the best system to consider if you are planning to expand your business. It comes with various essential features that help businesses in handling multiple calls at once and improve customer experience. 
So, if you are looking for the best multiline phone system, you can consider HoduSoft. It is a well-established company having years of experience in delivering customized phone system solutions as per the business's requirements. You can get the system customized with the required features and functionalities that best fit your specific communication needs. 
Start Growing With HoduSoft IP PBX System.