Inbound

Call Center Software
Now you don't have to worry about missing a single incoming call with the help of HoduCC inbound call center software. Reduce call abandonment rate while tracking, managing, and recording calls for improved customer experience. HoduCC provides simple and cost-effective solutions to help businesses handle the large volume of inbound calls with ease.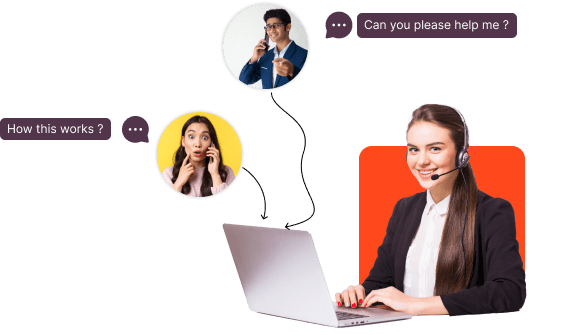 Why do you need Inbound Call Software?
Businesses must opt for an inbound call software due to several reasons such as-
Unlock the power of exceptional customer experiences with our cutting-edge Inbound call center software
Key Features of Inbound Call Center Software

Route calls to the right agent at the right time to improve customer experience.

Call Forwarding
Redirect incoming calls to another number depending on the requirements for better understanding and resolution of customer issues.

Call Recording
Track and record all customer interactions. These recordings can be used for future references, issue resolutions, agent training, etc.

Enhance efficiency to deliver quick customer services by routing calls to the available agent.

Allow your customers to perform basic functions over the phone and reduce call wait time.

Keep track of important analytics including call volume, missed calls, wait time, etc. Get real-time perspectives of your team's activity and optimize productivity.
Benefits of Inbound Call Center Software
Best Practices for Inbound Call Centers
No matter what type of call center you have, each has some challenges and goals. Agents must be well-equipped and knowledgeable enough to handle customers' queries. They must provide quick answers keeping customer waiting time as low as possible. They must also know how to make the most of the inbound call center software. 
If you are having an inbound call center or planning to implement one, implementing the below best practices can help you boost the success of your call center.
Build a positive working environment
To ensure that agents deliver their best to increase customer satisfaction rate, make sure to build a positive working environment for your agents. It is important to praise them if they are doing good in terms of handling customers' queries quickly and efficiently. Valuing their accomplishments will help to boost their morale and they will be motivated to perform their best.
Focus on key call center metrics and KPIs
It is vital to determine the key call center metrics and KPIs that give you the accurate performance report of your inbound call center's operations. Focusing on the most critical metrics and KPIs will help you in making improvements (if necessary) and deliver the best possible results.
To ensure the success and smooth running of your inbound call center, it is vital to take and analyze customer feedback. It is the most important practice that call centers must follow to know how they are performing and what their customers actually expect from them. This will help in delivering the most productive results.
Nowadays most call centers are implementing automation tools to automate various key tasks and increase their efficiency. Tools like Interactive Voice Response (IVR) and Automated Call Distributor (ACD) can help customers receive automated service without getting an agent involved or they can be redirected automatically to the most appropriate agent or department without having to wait for long. Some automation tools also allow call centers to send surveys for feedback and to collect and store information from customer interactions.
Unlock the power of exceptional customer experiences with our cutting-edge Inbound call center software
Why Choose HoduCC Inbound Call Center Software?
For inbound call centers, it can be a difficult task to organize and manage all the incoming calls and distribute them to the most appropriate agents. However, with the help of advanced inbound call center software, companies can simplify, automate, and manage all their processes and data. HoduCC offers exceptional inbound call center software to help businesses promote their customer support services.
With state-of-the-art inbound call center software, you will be able to deliver robust, professional, and supreme quality customer experiences. We offer multiple solutions such as Automatic Call Distribution, agent management tools, skills-based mapping, automatic CRM record popup, and much more to boost your inbound call center operations. Opting for HoduCC can benefit your business in several ways: