What is IP PBX? - A Detailed Insight!
In the past decade, IP PBX Software has gained a lot of popularity among businesses. It is an excellent option for businesses that deal with a huge volume of calls daily. In this guide, we will get a deep insight into IP PBX. The topics that we will cover in this guide are:
The system switches calls between VoIP (Voice over Internet Protocol) users on local lines while allowing users to share a certain number of external phone lines. It can also switch calls between two traditional telephone users just like a standard PBX does. 
IP PBX is often used conversely with VoIP phone systems to define a business phone system that uses Internet Protocol (IP) to transmit voice. A typical IP PBX business telephone system may be hosted on the:
Site with an IP PBX server, 

VoIP gateway at the core to which you plug in the internet line, 

Traditional PSTN line, and 

A number of IP Phones
The VoIP IP PBX connects to the PSTN using Primary Rate Interface or SIP trunking. This connection helps to establish voice call transfers between IP Phones using the internet. The same system connects users to other PSTN users as well as other IP phone users.
Now that you know what is an IP PBX, let's understand how IP based PBX system works. 
How Does An IP PBX Phone System Work?
An IP PBX Phone System receives and transmits calls (incoming and outgoing) over the internet. It uses VoIP technology to place and receive calls. The system transforms analog voice signals into digital data packets. After converting the signals, it transmits the data packets to a VoIP service provider to initiate and terminate each call.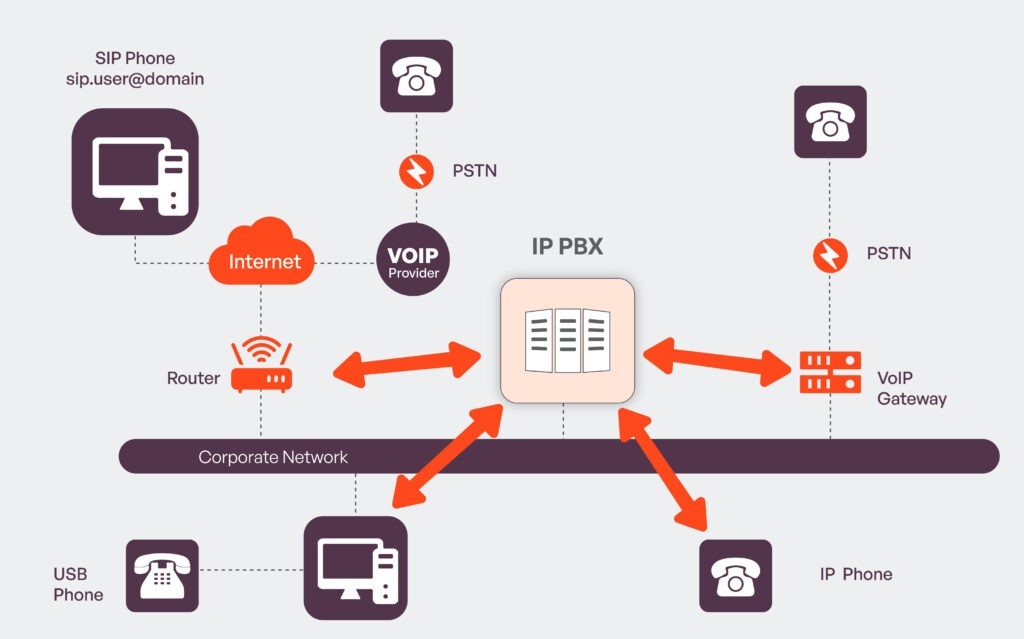 An IP PBX generally uses Session Initiation Protocol (SIP) protocol. This universal protocol is used in most business VoIP PBX systems. SIP trunking is used for a PBX to provide multiple voice channels. Businesses can connect their desk phones or any other hardware to the network with the help of SIP trunks. Moreover, they can easily organize call groups, routing, voicemails, and other functions through their IP based PBX.
A VoIP provider will assign credentials to the IP PBX users for the SIP trunking account. They can use these credentials to place and receive calls via the business PBX system.
Reasons to Switch to IP PBX
There are several benefits of switching to IP PBX systems over traditional phone systems. Some of the key benefits include: 
#1. Low costs
As compared to traditional phone systems, IP based PBXs offer better cost savings. Since IP PBX just requires an internet connection for proper functioning, it eliminates the need for on-premises hardware and equipment. 
The integration of VoIP services helps to cut down long-distance and international call costs greatly. Besides, it allows free calling between the employees at different branches.
All these things make IP PBX phones the best choice for small and medium-sized businesses. 
#2. Easy to set up and use
Traditional PBX systems require their own network. It can be quite an expensive and time-consuming task to build a separate telephone network covering the entire business premises. 
With IP PBX phones, telephone systems are connected directly to a standard computer network to transmit voice, video, data, etc.  
Since no wiring is required, adding or removing extensions becomes much easier. This is especially beneficial for companies that are planning to relocate their office. 
#3. Scalability
Businesses that are planning to expand their phone system may find it a costly affair with traditional phone systems. However, with IP PBX they don't have to worry about the scalability factor. 
Most IP PBX service providers offer pay-as-you-go plans. Pay-as-you-go plans allow users to play only for the services they want. They can choose the plan that fits best to their unique business requirements as well as budget. If they want to change their plan, they can do so easily without incurring any added costs. 
This gives users the flexibility to easily scale up or down as per their business needs. 
These are just a few benefits of IP PBX for businesses. This business phone system is easy to use and manage. Additionally, businesses can integrate this system with other business applications to enhance their productivity and efficiency. 
Who All Can Benefit From IP PBX?
Companies whether large or small from different industries are making a switch to IP PBX software solutions for better communications. Yes, it's not only the large businesses that can benefit from PBX system, even small enterprises can also enjoy its benefits. 
If you own a small business and are searching for the best IP PBX phone system, then you can refer to our guide to finding the best PBX phone system for your small business.  
The assorted benefits that VoIP IP PBX provides have lured industries like the telecom industry, automobile industry, and many others to redefine the way they used to communicate. 
Read Also: Reasons Why IP PBX Software Is Getting More Popular in The Past Decade 
Comparison: Traditional On-Premises PBX vs. IP PBX Software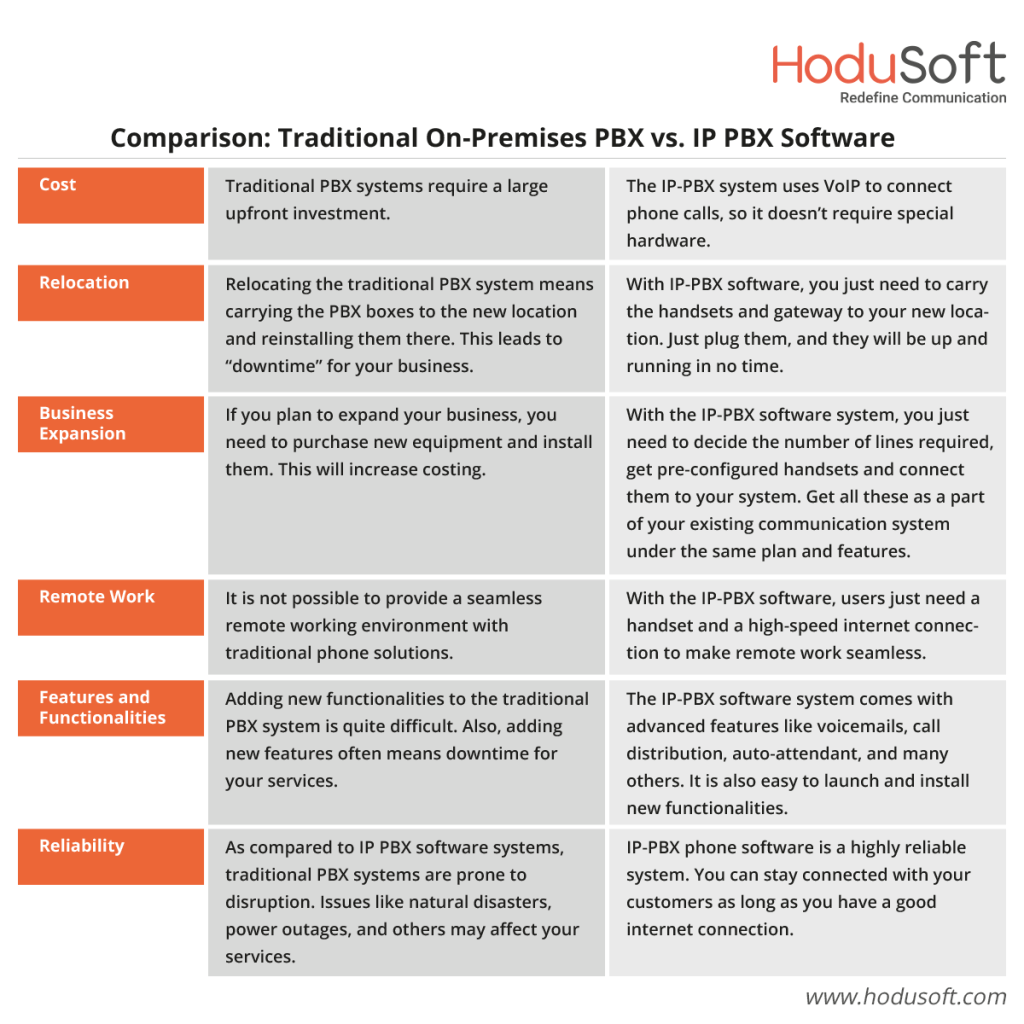 When you decide to switch from a legacy phone system to an IP PBX System, you will find a number of options available in front of you. In this case, choosing the right option may become quite challenging. To narrow down your options, here are the two most common types of IP PBXs for today's modern businesses. 
#1. On-premises IP PBX
Also known as a VoIP PBX, on-premises IP PBX is the system that is installed within the office premises. Several business enterprises usually purchase the software and deploy it on their premises on a specialized server. The server connects the software to other computer systems in the building as well as to desk phones and IP phones. 
It uses existing internet connections and internal networks to make and receive calls. Users can enjoy full control over the system. However, they must pay for upgrades and maintenance. Users within the system can use desk phones or softphones on the computer. This not only saves desk space but also allows greater control since the IP PBX software has a lot more features than the traditional phone system. 
The VoIP PBX systems come with advanced features like IVR (Interactive Voice Response), call routing, voicemail, video calling, conferencing, and many others. When combined with SIP trunks, IP PBX delivers much better performance and sound quality. 
#2. Hosted IP PBX
With the advent of cloud technologies, there is an increase in the rise of VoIP service providers and Hosted IP PBX Software solutions. Platforms on which IP PBX business phone systems are based also saw vast improvements like the incorporation of the latest VoIP technologies, protocols, and codecs. 
A hosted PBX system also known as cloud PBX or virtual PBX is a digital system hosted in the cloud. It is managed by a dedicated service provider. Users need not purchase PBX software when they opt for hosted PBX solutions. Instead, it is a subscription model based on the number of phones/users/calls and other parameters. 
The VoIP service provider of IP PBX software offers IP PBX as a service. Users need to pay for the software on a "pay as you go" basis. The software provider takes care of maintenance and upgrades. The core software resides in the cloud. This means users can have anytime, anywhere access from a multiplicity of devices on their computers. These devices can be mobile phones, laptops, IP Phones, and softphones. 
Users just need to login to start using the service. It is no surprise that VoIP hosted IP PBX software is now mainstream.
Business Benefits of On-Premises and Hosted PBX System
On-premises PBX systems are still being used by several businesses. However, the emergence of newer IP PBX software and hosted PBX Business Phone Systems have managed to catch the attention of many. 
IP PBX Business Phone System Benefits
IP PBX Business phone systems rely on a mix of PBX software and hardware and are usually on-premise solutions. The benefits of this system include:
Since it is an on-premise solution, users have full control over the system. 

With this system, users can mix and match various devices like softphones, mobile, desk phones, PSTN, and IP Phones for business communications.

There are more features in IP PBX as compared to older PBX systems. 
There are a few limitations also such as:
High upfront investment in software and then ongoing maintenance. 

Usage may also be limited since the system may be confined to the premises. 

Users also need a team to manage the onsite IP PBX setup.

In case of a location change, the users have to physically transport the existing servers hosting the software to the new premises.  Another alternative is to load the software afresh and reconfigure it. In this case, users also need to provide connections to the new PSTN and internet at the new location. 
Hosted IP PBX Business Phone System Benefits
Hosted IP PBX Software is offered by a software provider. The software resides on servers in the cloud. Users can use the hosted IP PBX in the office, from their homes, or any part of the world using computers, softphones on the computer, or mobiles. Some of the key benefits of hosted PBX software include:
Since it is a cloud-based system, services do not come to a halt if a server goes down.

Users subscribe to the service on a Pay as You Go Model. They can scale up or scale down, depending on usage. 

The VoIP hosted PBX software is modular and users can opt for features they need and pay accordingly.

Users can eliminate the high costs of telephony associated with PSTN lines.

If the users need to shift their office, their communications will not disrupt since the IP PBX software resides in the cloud. 

Users can save a considerable amount of space that would otherwise have gone towards housing the IP PBX equipment. 

Users do not need to pay a high-cost upfront for the IP PBX software. (It is important to keep in mind that while there are no upfront costs by way of payment of fees for the hosted IP PBX software, running costs may be higher. But these are easily paid through earned profits)

This system is a great boost for businesses since business owners and managers are always accessible to their customers. All the call records go into the associated central CRM from which users can also draw data from customers.
The Multi-Tenant Hosted IP PBX System
Talk about hosted IP PBX software would be incomplete without mentioning multi-tenant hosted PBX. 
When a user subscribes to hosted IP PBX business phone solutions the provider grants him a license to use it. License is granted based on the number of users and other parameters. The provider bills the client for using the IP PBX Software. In fact, it is a single-user license. Rates are fixed, the currency is fixed and billing is done by the provider to the user. All users and usage go into a central CRM under one head. 
The multi-tenant PBX system is just like the hosted IP PBX software. The differences are:
The multi-tenant IP PBX software from a provider permits the user to create sub-tenants or sub-users or user groups. 

Each sub-user or sub-user group accounts, billings, call records and CRM are distinct and separate in a multi-tenant PBX system.

The main tenant can bill a sub-tenant with the freedom to fix rates, usage patterns, and other controls like granting permissions to each such sub-user. 

Each sub-tenant or sub-user can maintain a distinct directory, user group, and CRM. Sub-tenants can manage and control all users and sub-user groups. They can create sub-tenants on their terms. They can even grant permission to a sub-tenant of theirs to add sub-tenants in a tree-branch fashion with separate rates, accounting, billing, and permissions for each. 
Advantages of multi-tenant IP PBX hosted business phone system
The multi-tenant IP PBX hosted business phone system service model has various advantages for different users like- 
Service Providers:

A multi-tenant IP PBX system relieves service providers from the burden of managing hundreds of sub-continents, accounting, maintaining their call records, and databases. They just have to bill the main tenant. 

Tenants:

A tenant can enjoy several facilities using a multi-tenant IP PBX. They can create sub-tenant groups and monetize their hosted PBX service. Thus, creating their own VoIP service in a geographic location or across the world. Their sub-tenants are responsible for managing the downstream sub-tenants in a pyramid structure. 
In all, a multi-tenant IP PBX is a win-win situation for all, especially for large business organizations with multiple branches in different locations. They can keep each branch's usage separate and yet under the same hosted PBX solution. 
Besides, it can be an excellent choice for PBX Service providers to opt for "IP PBX as a Service". They can start by associating with the  HoduSoft Partnership Program, with a very little investment.
Read Also: Here are the Top Multi-Tenant IP PBX Features and Benefits to know in 2022 
HoduPBX offers scalability, integrations, modular components, white labeling, customization, and lots more in its IP PBX solutions. It also offers multi-tenant PBX business phone software and solutions tailored and set up to suit each user's requirements. The big names simply cannot match.
Start Growing With HoduSoft IP PBX System.