Gartner's GetApp Names HoduCC a Category Leader in Contact Center Software
Yet another recognition! Yet another proud moment! 
It's pretty exciting to see that HoduSoft has bagged the 6th rank in GetApp's Category Leader list for contact center software, published by Gartner Digital Markets Report. What makes this recognition so special for us is that the ranking is based entirely on the ratings and reviews of our users about our contact center software, HoduCC.
Making the markup Gartner's GetApp Category Leader List
GetApp is one of the Gartner Digital Markets entities that reviews, evaluates, and compares various business software in several key categories. The reviews are generated from end-users and are 100% genuine. Moreover, they truly reflect the experience of buyers and are based on numerous areas, which together form a comprehensive review of software and add great value for readers as well as potential customers.
"Almost all organizations, whether big or small, need a reliable contact center software partner as the business environment has become ultra-competitive. Customers today demand businesses to immediately respond to their calls and quickly resolve their issues. And by bringing innovations and capabilities to market, HoduSoft strives to offer all businesses a better way to evolve their contact centers to increase customer loyalty and profitability." said Kartik Khambhati, Co-Founder & CBDO, HoduSoft.
GetApp has collected and verified data from about 40 end-user reviews to identify the top Contact Center Software providers for 2022. 
HoduCC scored 90 out of 100 on GetApp's data quadrants to emerge as the Category Leader in the list. 
The software or products that receive the highest scores are chosen as the top-ranked based on user ratings in five key areas. These areas include value for money, ease of use, features, customer support, and likelihood to recommend.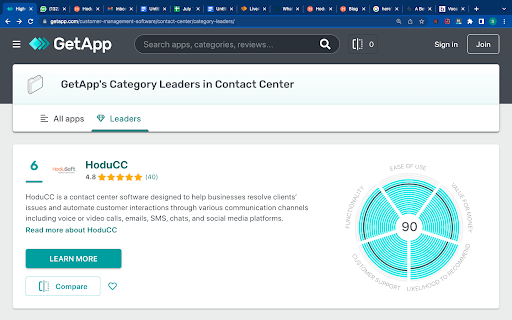 "Recognition is what keeps us going and growing. This placement in the top 10 contact center software is a testimony of the confidence that our clients have placed in contact center services across the globe. We're delighted to have reached this rank, and for this, we'd like to wholeheartedly thank our partners and clients for their continued trust in HoduSoft," Khambhati added.
Why Do Businesses Need Contact Center Software? 
In today's tech-savvy world, modern customers expect more personalized, proactive, and connected experiences across channels. In fact, according to Salesforce, a whopping 75% of customers expect a consistent experience regardless of how they engage (through social media, by phone, in person, etc.) 
Further, 66% of customers want businesses to understand their needs, deliver personalized experiences, and quickly resolve their queries. For this reason, it's critical for businesses to invest in omnichannel contact center software and redefine the way they communicate with today's customers. 
Contact center software not only enables businesses to cater to their customers, it also allows them to deliver seamless experiences across touchpoints like social media, chatbots, phones, etc. Moreover, it helps businesses to target and convert existing, as well as, prospective customers across multiple channels.
How HoduCC Can Help Businesses Deliver a Top-Notch CX? 
Covid-19 has indeed acted as a catalyst for change, especially for businesses. With the competition soaring high, it's a challenge for businesses to attract and retain customers. While customer experience has become one of the key differentiators for customers, businesses need to look out for ways to elevate their customer service. And the good news is that investing in contact center software such as HoduCC can enable businesses to thrive and gain a competitive edge in the marketplace.
HoduCC is a complete omnichannel contact center software that comes packed with several advanced features to enable businesses to deliver an outstanding experience to their customers. Some of these features include:

Multi Level IVR (Interactive Voice Response)

Predictive Dialer Software

Auto Dialer Software

Call Recording

Call Bridging

Call Forwarding 

Automatic Call Distribution

Skill-Based Routing

Real-time Analytics and Reporting 

Third-Party Integration
Leveraging these features, businesses can significantly improve their customer service operations, enhance customer experience, boost agents' productivity, reduce operational costs, maximize ROI, and much more.
Read What Our Customers are Saying About HoduCC

"The software is highly secured, cost-effective, and offers flexibility. 

"We've had a great experience with HoduCC. The support team at HoduSoft is highly supportive and fixes all bugs quickly and efficiently."

"The best thing about HoduCC contact center software is that it's highly flexible and allows businesses to add new agents whenever required."

"Not only is the HoduCC robust, but it's also equipped with some great features which can be understood quite easily."

"The IVR capabilities of HoduCC are top-notch." 
The Next Move
Customer experience has become one of the most crucial things to drive business growth and generate higher revenues. Any business that offers its customers unique customer service across channels can significantly improve its CSAT score (Customer Satisfaction Score), gain customer loyalty, increase traffic, and ultimately overall profitability. In fact, 86% of customers today say that they're willing to spend more for great customer experiences. 
However, handling and responding to every customer's query can be challenging for businesses with high-volume calls. It might become overwhelming and frustrating for call center agents to receive tons of calls in a day, which may further lead to hindering their productivity. But with intelligent contact center software like HoduCC, businesses can restructure their call handling processes to ensure all calls are answered and a stellar experience is delivered to each customer.
"We'll continue to improve and innovate all of our products so as to provide our clients with contact center software that will enable them to deliver best-in-class customer experiences," Kartik added.
Great CX starts with Great EX!
It's now evident that a strong customer experience, along with high-quality products and services, is the only key to making a company stand out from the competition. But to achieve this, businesses need to empower their employees/ call center agents with the right tools to boost their efficiency and create an effective employee experience.

HoduSoft's powerful contact center system software, HoduCC, is carefully and explicitly designed to enable businesses to meet the needs and expectations of their existing, as well as, potential customers. Being an intelligent, secure, and robust contact center software, HoduCC is suitable for companies with huge call volumes. In addition, it's delivered on the cloud or on-premise based on unique business needs and is used by over 250 customers across 40 countries and 6 continents.
If you're looking for contact center software for your business, take HoduCC for a spin today! To learn more about our comprehensive product suite, call now at +1-707-708-4638 or write to our sales time at [email protected].