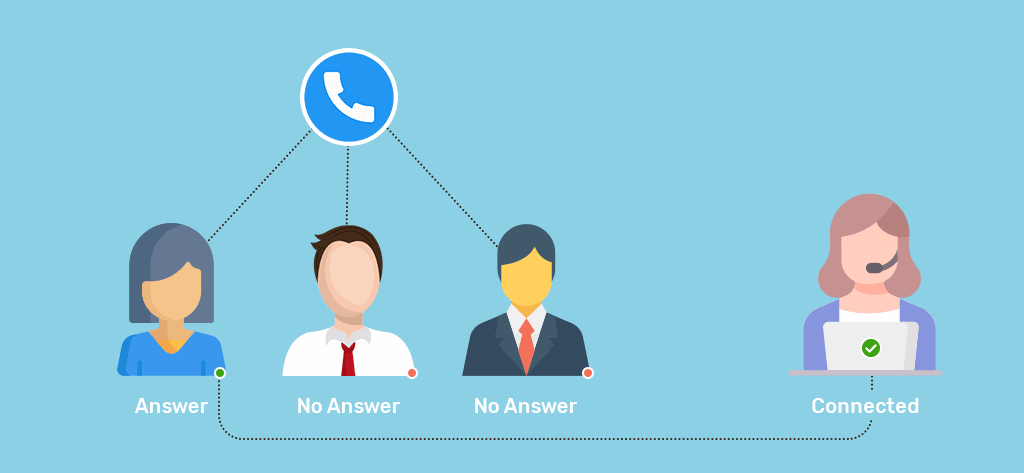 Allow your agents to spend time in quality conversation rather than placing calls.
HoduSoft's call center software offers an exclusive feature of a predictive dialer, enabling agents to connect with the call as soon as they become available. The state-of-the-art predictive dialer is beneficial to predict the average call answer time and agent availability, And, based on that, it helps to modify the dialing rate accordingly.
With the Predictive dialer software, HoduSoft aims at prioritizing personalized call volume for an improved customer experience. Proactive customer outreach capabilities are the best solution to keep your customers informed, engaged, and on schedule. Further, our predictive dialer for call center software intelligently assigns calls to available lead qualification agents.
Embrace the power of smart dialer for better communication
Connecting the customers with the right agent is essential to improve overall call experience. HoduCC's predictive dialer helps increase call connect rate using an outbound dialer and saves agents' time with smart operational facilities.
Also, it allows reaching more customers with the key functionality, such as predicting the call drop ratio, analyzing agents' wait time, and automatic call routing to available agents in the queue. The dialer optimizes operations and improves productivity wherein calls are connected to agents only when the customer picks up the call.
Increase call connects while maximizing agents productivity
Mostly, businesses struggle to achieve a higher call connection rate. HoduSoft's predictive dialer for the call center is designed by tweaking the dialing algorithm after taking into available agents. Thus, excluding the need for human intervention, while progressing calls connects significantly.
Moreover, dialing more calls in less time with a predictive dialer is a great opportunity to boost productivity. At the same time, effectively pace outbound calls and filter out unprolific calls such as answering machines or busy tones that guarantees high call connections while reducing agent idle time.
Acquire the hassle-free, efficient deployment process
Deployment of the most efficient predictive dialer solution is the necessity to sustain market competition. Based on our clients' business requirements, we create customized and simple deployment of predictive dialers that entails optimal deliverables.
While executing the predictive dialer solutions for call centers, our objectives aim at improving higher agent retention rates, reduced call wait time, optimized call processes, and many more. We assure industry-best predictive dialer solutions that maximize efficiency and productivity.
HoduCC – Call Center Software presents distinctive features that make the operational process most efficient. From automated dialer technologies to automatic voicemail laydown, the predictive dialer software includes the following features;
Answering Machine Detection
Voice Recording
Campaign Management
CRM Integration
Remote Agent
Real-time Analytics
Caller ID
User-friendly UI/UX
Custom Reports Generation