HODUPHONE – ANDROID AND iOS APP
HODUPHONE – ANDROID AND iOS APP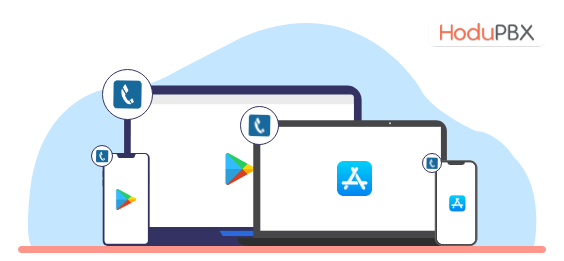 HoduPBX's HoduPhone App is available on Google Play and Apple Store . Users can simply search the HoduPhone app on their smartphone and download the app.
Users can utilize this app to do audio & video calls, audio conference, chat, SMS, fax and check voicemails.
Some of the key features of HoduPhone Dialer includes audio calls, video calls, call history, call transfer, call mute/unmute, call hold, instant messaging, phonebook, last call redial, Bluetooth headset support, audio and video codec support, multiple calls management, etc.
FEATURES
SMS: The users can also use the SMS option for communication purpose. It is pre-integrated with Twilio and Telnyx.
Chat:  Users can chat internally, extension to extension.
Fax on Email: Users have the flexibility to send faxes using email address.
Phonebook: Users can go through the contact details easily via Phonebook available on the dial pad. Both local and extension phonebooks are synced automatically.
Call Forwarding: Users can set call forwarding options for busy, no answer, weekoff, holiday, universal, etc., as per their requirements.
Audio/Video Calls: HoduPhone app allows users to make both audio and video calls along with audio conferencing.
DND: The app also has a DND (Do Not Disturb) option for a quiet time.
Call Log: Users can access the call logs to view and re-dial any particular number quickly to initiate an audio call, video call, or text.
Voicemail: With just a touch, users can listen to their voicemails
BENEFITS
Free to Download: The HoduPhone app is available for free. You just need to download the app on your device and start using it with HoduPBX.
Available for both Android and iOS: HoduPhone App is available on both the platforms-Google Play and Apple Store.
Easy to use interface: The interface is quite user-friendly with all the essential features.
SIP Protocol: HoduPhone supports SIP protocol which facilitates flawless and cost-effective communication.
Whitelabel: Hoduphone is also available as a whitelabel option as an add-on for ISPs, ITSPs and Telecom to offer Hosted PBX services under their brand.