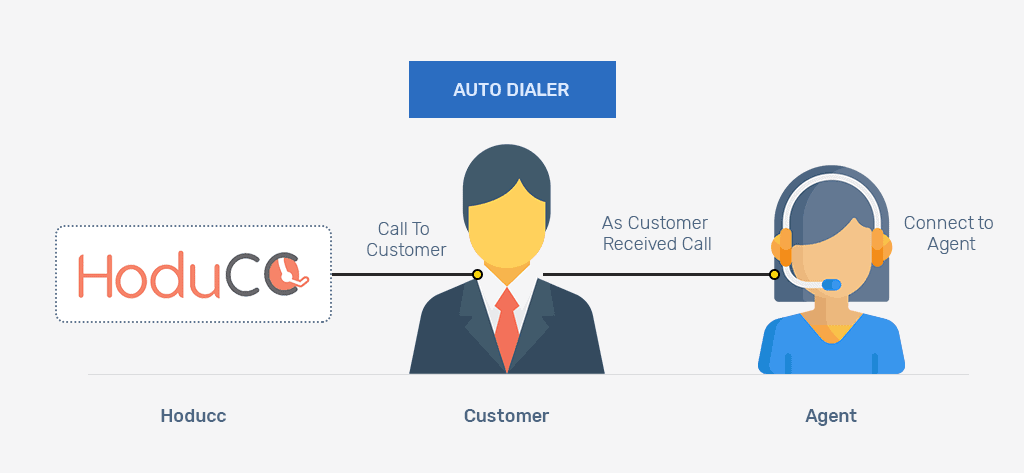 Automation is a crucial element to increase operational efficiencies for call centers. HoduSoft call center software presents an auto dialer, a special type of outbound phone dialer software that helps to dial out a set of contacts automatically. Also known as Power Dialer, auto dialers assure a modernized and scalable approach for the outbound call center software.
Placing hand-operated outbound calls for a large number of clients can be a time-consuming process for call center agents. Our auto phone dialing software can help businesses simplify outbound calling. The automatic phone dialer allows you to perform custom management depending on the call flow; play a greeting, ask for an IVR input & more. All the calls can be assigned to the right call center agent based on the defined conditions. Further, our auto dialer software helps cut down on the workforce by significantly accelerating agent productivity, thereby empowering companies to achieve more with fewer resources.
Auto dialer software offers several benefits to help businesses enhance their productivity and efficiency. Here are some of the key benefits of using auto phone dialer software:
Enhanced operational efficiency
Improved lead generation ratio
Improved Efficiency
Auto dialers help automate the process of dialing phone numbers, thus eliminating the need for manual dialing. Instead of wasting time on dialing and waiting for calls to connect, call center agents can efficiently engage with prospects or customers. The saved time helps in generating and nurturing leads for your business.
Better Agent Productivity
An auto dialer can filter out busy signals, voicemail, and unanswered calls, allowing agents to connect with live calls more frequently. When agents spend more time talking to customers, it leads to improved productivity. 
Real-time Analytics and Reporting
Auto dialers help businesses gain valuable insights with its real-time analytics and reporting capabilities. It allows businesses to monitor call metrics, such as call volume, call duration, and conversion rates. This helps in measuring agent performance, identifying areas for improvement, making data-driven decisions, and optimizing sales or customer service strategies.
Seamless Integration
An automatic phone dialer software allows easy integration with business tools like Customer Relationship Management (CRM) systems, allowing agents to access customer information and call scripts during calls. This helps to personalize interactions and enhance customer satisfaction. 
Campaign Analytics Management
The auto dialer system provides valuable data and insights that help businesses measure the effectiveness of their outbound calling campaigns. These insights can be used to analyze and strategize outbound calling campaigns more efficiently. 
Accumulate Customer Feedback
Obtaining customer feedback is considered essential for growth and superior customer experience. An auto dialer software can help you get better customer responses compared to emails & SMS.
Our call center phone dialer software entails many useful features that improve the efficiency and productivity of agents. The features include:
Call Recording

Call Reporting

IVR – Interactive Voice Response

Call Scheduling

CRM Integration

Live Monitoring

Dashboard Management

Analytics and Reporting