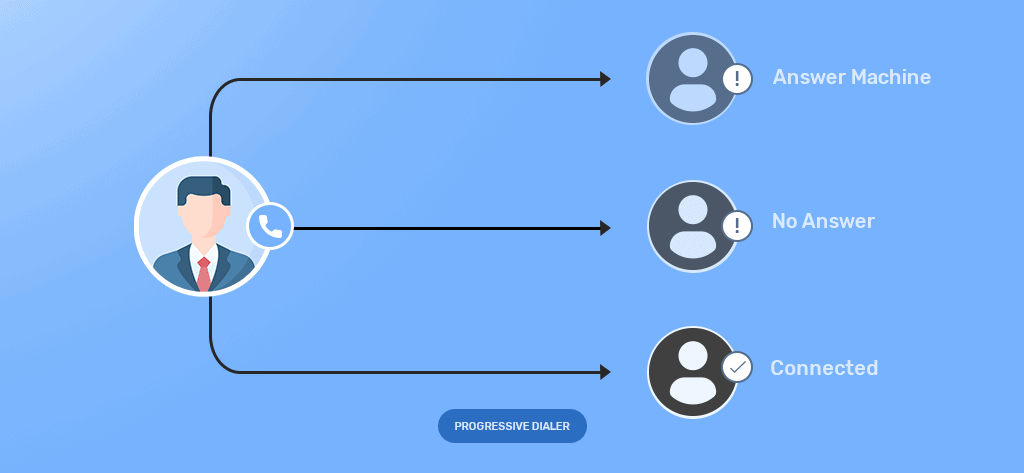 Making customer outreach a streamlined process!
HoduSoft's call center software presents a discrete functionality with a progressive dialer. It helps in boosting agents' overall productivity and conversion rates. The progressive dialer aims at reducing call abandonment rate and downtime. As soon as an agent is available, the progressive dialer makes a call to the agent and then dials to the customer.
Moreover, progressive dialing minimizes wasted time between calls through automatically dialing a number from a call list. This is an accommodating facility for the call centers that need to manage a large volume of mixed traffic.
BENEFITS OF PROGRESSIVE DIALER
Maximize agent productivity
Empower outbound calling with progressive dialer
HoduSoft's call center software allows call automation through progressive dialer. It is an automated telephone dialing system that only connects customers after the agent answers the call. The progressive dialer is specially used for premium customers. The system runs through a calling list across various campaigns at the velocity of your operations. A progressive dialer is an efficient solution where you need to manage large numbers of outbound calls.
Active call connections encourage callbacks all time
The progressive dialer is used for premium services to customers, for feedback, lead generation and sales. It also limits dropped calls by dialing and connecting calls only when agents become available. Besides, it encourages callbacks through with around-the-clock reachability from real call back numbers, intelligent blending, and inbound routing.
Tailor campaign with maximum uptime
The progressive dialer is capable of the rule-setup and data integration that establishes a clear view of who you are calling when you are calling, and how often you need to call. Further, the system is proficient and does not leave agents or customers hanging. As a result, HoduSoft's call center software offers you an opportunity to maximize productivity and achieve intended results quickly and efficiently.
The progressive dialer offers a wide array of features that incorporates
Real-time Analytics
CRM Integration
Callback
Agent Scripting
Call Recording
Answer Machine Detection (AMD)
Call Monitoring
Call Disposition
Automatic Voicemail