An inbuilt ticketing system allows organizations to track, manage, and resolve customer queries or issues effectively by creating and managing support tickets.
It acts like a centralized system that businesses can use to gather, organize, and respond to customer support requests.
When a customer connects for assistance, a ticket is generated automatically to capture all relevant information and deliver a planned workflow for agents to handle the customer's query with ease.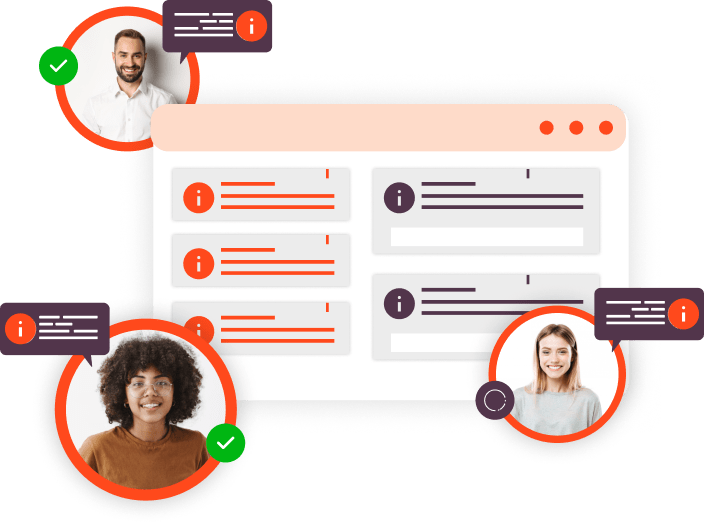 Benefits of

an Inbuilt Ticketing System
The benefits of an inbuilt ticketing system generally include:
Centralized System:
Inbuilt ticketing system centralizes customer issues in one location. This helps agents to view and manage tickets from a single interface, ensuring consistent and efficient handling of customer concerns.
Improved Collaboration:
Inbuilt ticketing system facilitates a collaborative environment between the agents/supervisors. Using this system, tickets can be assigned to specific agents based on their skill sets or expertise. In case a ticket requires further attention, it can be escalated to supervisors or higher-level support for faster issue resolution.
Prioritization:
While AI chatbots handle most customer inquiries, some complex issues may require human intervention. Integration with contact center software ensures a smooth transition from the chatbot to an agent.
Analytics and Reporting:
The inbuilt ticketing system provides valuable data and metrics that businesses can use for analysis and reporting purposes. This data helps in evaluating the agent's performance, identifying key trends, and making data-driven decisions. 
Personalization:
An inbuilt ticketing system keeps a complete record of customer interactions and history.  When a customer raises a new ticket, the agent can access the customer's past tickets, interactions, and other relevant notes or comments made by other agents. This helps in offering more personalized and informed support to customers.
Overall, by using an inbuilt ticketing system offered by HoduCC, businesses can streamline the issue management process, improve collaboration, and provide efficient tracking and resolution of customer inquiries.