HODUPHONE – CHROME EXTENSION
HODUPHONE – CHROME EXTENSION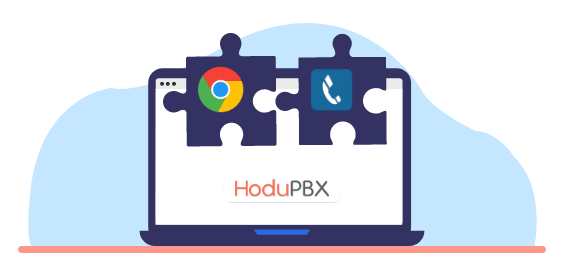 HoduPBX-IP PBX Software is equipped with the Chrome Extension-HoduPhone, which allows efficient handling of calls. It is very easy to add the HoduPhone extension to the Chrome Browser. Users can go to the Google Web Store and search for 'Hoduphone' and add that extension to Chrome Browser. Once the extension has been added to the Chrome Browser, users can see the 'Extension sign' on the top right side of the browser.
The key purpose of adding Chrome Extension features to HoduPBX-IP PBX is to allow easy management of calls from their Desktops and Laptops. With this app, the users need not to use different devices to make or receive calls. It also helps to save money as customers need not to invest their money in purchasing IP phones.
BENEFITS OF CHROME EXTENSION
FEATURES
Dial Pad:  Users can use the dial pad to make a call.
SMS: If assigned by the tenant, users can use the SMS option. It is pre-integrated with Twilio and Telnyx.
Chat: Users can chat with the other extensions.
Fax-to-Email: Fax-to-Email can also be utilized for communication purpose directly from the app.
Phonebook: Users can go through the contact details easily via Phonebook available. Users can sync their local phonebook for calling their contacts as well as make calls to other extensions.
Call Forwarding: Under the extension settings of the HoduPhone, users can set call forwarding options like busy, no answer, weekoff, holiday, universal, etc., as per their requirements.
Video Calls: The Chrome Extension also supports one to one video calls. The tenant can provide the video call option to their customers.
DND Option: The extension also has DND (Do Not Disturb) option for quiet time.
Call Log: Users can access the call log to view and re-dial any particular number to initiate an audio call, video call, or text quickly.
Voicemail: With just a click on the icon, users can listen to their voicemails directly from the chrome extension.
BENEFITS


Free to Download: The HoduPhone chrome extension is free to download. You just need to download the extension from the Chrome Extension Store and start using it with HoduPBX.
Various Communication Options: HoduPhone extension users can simply dial a number from the Dial pad and make audio or video calls as facilitated by the tenant. The user can even use the chat option for chatting purpose.
Easy call management: HoduPhone has more enhanced features than an IP phone provides, it offers features like audio call, video call, audio conference, chat, SMS, fax and voicemails. Thus, it is an ideal solution for the users who are looking for an efficient, simple, easy-to-use communication app.
SIP Protocol: HoduPhone supports SIP protocol which allows users to enjoy a seamless and cost-effective communication experience.
Whitelabel: Hoduphone is also available as a whitelabel option as an add-on for ISPs, ITSPs and Telecom to offer hosted PBX services under their brand.
Cost-Effective: The users are not required to purchase IP phones for using HoduPhone as they can easily make or receive calls from their desktops and laptops.