Say goodbye to bulky desk phones, tangled wires, telephony hardware, as well as installation and maintenance costs. Handle all incoming and outgoing calls from your browser using HoduPBX's webphone!
Loaded with a wide range of high-quality features and benefits, the HoduPBX webphone empowers you to manage your contacts effortlessly, make crystal-clear calls, and display your brand theme and color while handling calls.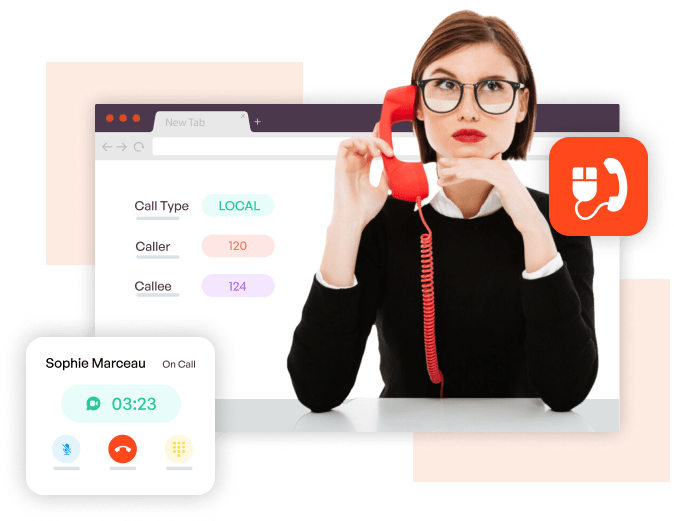 Platform configuration
features for reseller
The platform provides exclusive configuration capabilities to resellers,
which enable them to customize and adapt to changing business needs.
Handle calls from browsers
By using the Webphone module, you can handle calls from browsers without even leaving the page you're working on. You just need to log in to your HoduPBX account and you can handle all incoming and outgoing calls right away.
Cost-effective
Using HoduPBX's Webphone, you don't need to invest in expensive and bulky desk phones. Also, unlike desk phone systems, webphones don't need any installation and maintenance costs.
Saves time
With the dialer button on the browser, it's extremely easy for extensions to handle calls with just a click of a button. The easy-to-use setup and configuration also make the webphone module extremely efficient and fast.
Enable or disable webphone with just a click of a button
When tenants create an extension, they can enable or disable the webphone as per their requirement. If they enable the webphone, then a green colored dial icon is visible on the extension user panel.
Give webphone rights
With the HoduPBX webphone module, you can give webphone rights to your clients. All you have to do is enable the 'Allow Webphone' button. Admin can enable webphone features for their resellers. Resellers can do the same for tenants. Tenants can give permission to the extension users.
Feature as a service
Tenants can assign the webphone as a feature as a service to their extensions. By using HoduPBX's webphone module, tenants can define the service as well as the charges for their extensions and get a recurring payment from them.
Set service count and rate
You can set your own service count and rate. You can select the total count of service tenants or extensions can use. You also can set the rate [amount of money] that will be charged for the specific service. You can also select the rate type—unit or fixed—based on which charge will be counted for that service. In the unit rate type, the charge will be based on the used service count. In the fixed rate type, a fixed charge will be applied for that specific service.
Update service configuration
HoduPBX's webphone enables service configuration under which you can update the service list. You can update the default service count and default service rate that'll be displayed while creating a tenant (or when the tenant requests for service). You can also enable or disable 'Allow Request.'
Unleash the power of HoduPBX webphone today and give your business the edge it deserves.
To see how it works for your business, contact our sales team today to book a free demo.