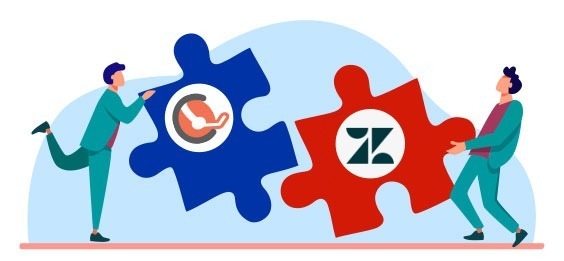 Easily track, prioritize, and resolve customer support interactions through the Zendesk CRM integration with HoduCC!
HoduCC – Call & Contact Center Software is the best solution to connect with customers, communicate efficiently, boost customer satisfaction, and promote better business growth. The software now offers an exclusive integration of Zendesk CRM for enhanced customer relationships.
HoduCC lets customer support teams provide personal, productive phone support within an omnichannel customer journey. The solution can easily accommodate the growing needs of sales and support teams and their end-users, resulting in improved client satisfaction, productivity, and cost-effectiveness.
Its integration with Zendesk CRM provides even smoother, personalized, and responsive support across any channel, thus fostering better customer relationships. HoduCC- Call and Contact Center Software is an automated system that helps to manage the communication between agents and customers. It comes with state-of-the-art features and functionality with the secured business operations to facilitate a flawless conversation with the customers. Zendesk CRM software is perceptive, built with keeping customer support agents in mind. Integration of Zendesk CRM with HoduCC helps to manage inbound and outbound calls in a seamless manner. With a simple login process, agents/supervisors can see all the necessary details and perform the required actions. As soon as there is an inbound call, a popup will appear on the screen where users can answer/reject the call. If the call is answered, users can use various standard options of WebRTC including Mute/Unmute, Hold/Unhold, Transfer, DTMF, and Call Disposition. The integration also facilitates a call transfer option using which the users can transfer the call to an agent, supervisor, queue, IVR, or IVR survey. HoduCC Admin configured Call Dispositions are also available for the users. Once the users have a ticket, they can directly connect to a particular customer number via the HoduCC call plugin. Have a look at the distinct features of Zendesk CRM integration with HoduCC.
Save agents' time and dial with the single click calling functionality.
Saves the valuable time of your callers and agents.
Take advantage of automated ticketing generation through the Zendesk CRM to answer customers' queries promptly.
Build powerful voice and video communication solutions.
Use one-click call disposition to instantly record the result of a call.
Robust reporting and advanced analytics
Access real-time reports and analytics to improve customer services.