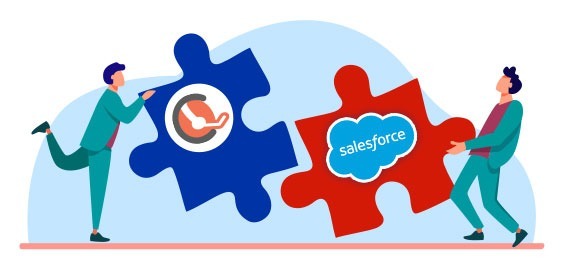 Augment accuracy and promote productivity through the Salesforce CRM integration with HoduCC!
HoduCC – Call & Contact Center Software is a specialized solution to boost customer services by increasing agents' productivity and operational efficiencies.
The software now presents an elite integration with Salesforce CRM that facilitates connectivity with existing and potential customers.HoduCC Call Center Software is an efficient solution that offers streamlined management to handle a large volume of inbound and outbound calls.The Salesforce CRM integration will make customer communication even smoother through HoduCC.
This integration will be helpful where agents do not require toggling between various applications or screens to find customer information. Take advantage of the carrier-grade voice channel and intelligent routing engine (HoduCC) that offers the integration of Salesforce CRM to empower customer services.
Save agents' time and dial through the single click calling functionality.
Fetch customer's detail while on call to assist them in the most contextual, personalized way.
Take advantage of automated ticketing generation through the CRM to answer customers' queries swiftly and accurately.
Access real-time analytics and reports and improve customer services.